4th May 2020
A guide to your no-contact property valuation during lockdown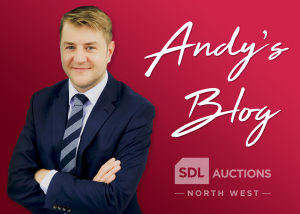 During lockdown, valuing a property from a distance has become a necessity but in the world of auctions working in this way is far from unusual. Here Andy Thompson, Head of Auctions at SDL Auctions North West, explains how – and why – it works.
Talk to anyone outside of the auctions industry and they may struggle to comprehend that we often sell properties without ever meeting the buyer or seller. In fact, this is true for the vast majority of auction transactions, which has made the switch to socially distant selling relatively simple.
The first stage of the selling process is to carry out a valuation, which can be done without visiting the property at all.
First of all we'll call you and chat about your circumstances, to establish how quickly you need to sell, your price expectations and what type of auction sale is right for you. This could be a traditional room auction – these are currently being held behind closed doors and live-streamed over the internet – or an online auction, which can be held at any time, so is ideal if you are in a hurry. We also offer conditional and unconditional auction sales, which we will discuss in detail to help you decide which one is best for your property.
When I carry out a no-contact – or desktop – valuation, I use a variety of sources to research the property and the location, beginning with the simple step of checking out Google Street View to check out the other properties on the road and nearby.
There are various websites which are accessible by the public showing sold property prices but agents have access to additional sources, too, such as Rightmove Plus. This not only tells you how much properties have sold for but which ones were marketed and subsequently withdrawn, which is often due to them being priced too high. I can also get sales information about every property sold at auction across the country from The Essential Information Group.
We take information from these and other sources to build up a picture of the property and location, combining it with our own expertise to calculate adjustments to the value.
It's important to remember that auctions represent a niche market within the property industry.
This means that, in the main, properties sell to certain types of buyer. I always try to put myself in the shoes of the most likely type of buyer, whether that be a private owner-occupier or an investor.
For example, a two-up, two-down property in decent order is likely to attract a lot of interest from landlord investors. For investors of this type, a property purchase is purely business so features such as a pretty garden or nice flooring are less relevant than they are on the open property market. In this case, I would look at rents and yields for similar properties in the local area as these all contribute to the value.
When it comes to valuing a refurbishment project, it's important to assess the cost of any work against the value of the property once this is completed. Developers are looking to make a capital gain – usually in a matter of months – so will consider how much time and money they need to invest before selling the property on.
If we can get local investors or owner-occupiers interested in the property, too, it is likely to sell for a higher price, as they are usually less driven by the need for a short-term gain. A local investor may instead let out the property for up to 10 years, deferring their capital gain until the time comes to realise their asset.
Meanwhile, a private buyer may be seeking a project for their own family to live in, or for their son or daughter while studying at university, which means they are not driven by profit so are likely to bid higher.
All these factors have an impact on the valuation but ultimately we need to be able to offer it at a price which is low enough to draw interest from bidders. If it's priced attractively and we get a number of people interested, this will result in competitive bidding and a higher sale price being achieved, which is great news for the seller. It's all about creating momentum, excitement and competition.
If you have a property to sell, you can book a no-contact valuation, please call the team on or call the team on 0800 304 7879 or click here.