7th March 2019
A great month for property sales as SDL Auctions raises £21.5 million for sellers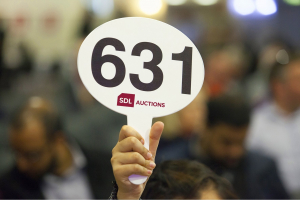 A successful month of auction activity has seen SDL Auctions raise £21.5 million for its sellers and auction partners around the country.
With auctions held at six auction rooms as well as  online auctions, the company has seen lots ranging from small parcels of land to huge property development opportunities go under the hammer.
The sales have contributed to a hugely positive start to the year for SDL Auctions, which has also been placed fifth in a national league table of the most successful property auctioneers in the country* and once again placed first in the East Midlands and West Midlands regions, where the top spots have been held for more than 10 consecutive years.
To add to the excitement in the auction room, two different TV crews have been filming the action. The BBC's Homes Under the Hammer crew were in Birmingham and Derby, while Channel 4 were filming a new series called the Great House Giveaway at the Leicester and Chester auctions.
The icing on the cake of a flying start to 2019 was the return of auctioneer Rory Daly to the Birmingham rostrum after he was given the all clear from bowel cancer.
A great many of the lots sold in the auction room were two bedroomed terraced properties requiring full renovation or cosmetic modernisation, and these always prove popular with landlords and investors looking to add value before selling on or adding to their letting portfolios.
One Sutton-in-Ashfield property of this type sold at Nottingham Racecourse had a particularly notable address. 4 Downing Street was sold for £51,000 from a **guide price of £45,000+.
But not all auction properties require work. At the King Power Stadium, Leicester, a well presented townhouse in Woodhouse Close, Markfield, was sold for £141,000 from a guide price of £135,000+.
Auctions around the country illustrated that there is no 'typical' auction property. In Birmingham, one of the most popular lots of the day was a former community centre in Melvina Road. Its development potential was evident and it sold for £1.32m from a guide price of £450,000+.
Another development site to attract attention for its investment potential was sold at Chester Racecourse. The site, at 32-36 Bridge Street, Wrexham, has planning permission for a mixed-use development comprising a ground floor commercial unit and 10 apartments, and sold for £155,000 from a guide price of £150,000+.
One of the most distinctive lots of the month was the 17th-century Grade II listed Jacobean House, 33 Wardwick, Derby, thought to have been Derby's first brick-built building. It sold at Pride Park, Derby for £256,000 from a guide price of £250,000+.
As well as development sites, parcels of land were sold and, at the AJ Bell Stadium in Manchester, a portfolio of more than 300 ground rents in Greater Manchester realised £27,000 from a guide price of £20,000+.
But not all properties are sold in the auction room; online auctions run seven days a week, providing a more immediate option for sellers.
Typical of the type of two-bedroomed terraced properties which are so popular in the auction room is 54 Granville Street Ashton-under-Lyne, Manchester which sold at online auction in partnership with agent Aubrey Lee for £70,000 from a starting bid of £64,000.
Among the flats sold at online auction were a studio apartment at 158 Earl Road, Liverpool, which sold in partnership with Belvoir for £20,000, from a starting price of £19,000, and the two double bedroomed upper floor Flat 75, Scholefield Tower Uxbridge Street, Birmingham which sold in partnership with Just Move Estate Agents for £65,000, from a starting bid of £55,000.
A much larger family home, with five bedrooms and three reception rooms, 7 Middleton Road Crumpsall, Manchester sold online in partnership with Aubrey Lee, for £363,500 from a starting bid of £300,000.
Managing director and auctioneer Andrew Parker said: "We have started 2019 on an incredibly high note and have plans to continue to build on these successes over the coming months.
"As well as looking forward to selling many more properties under the hammer, we are delighted to be able to offer the online option to sellers and our experienced team are happy to help you decide which is the best method for you."
The auctions team are now on the lookout for properties to be sold online and for the next round of room auctions, which take place in Birmingham in March and in Nottingham, Derby, Leicester, Chester and Manchester in April. To find out which auction method is most suitable for your property, and for a free auction appraisal, visit the website at www.sdlauctions.co.uk.
* based on Essential Information Group figures for total number of lots offered and total number of lots sold in 2018.
** Each property is subject to a Reserve Price which may be different from the Guide Price. For full definitions see www.sdlauctions.co.uk/glossary.