14th September 2018
A coffee with… Naomi Fearn, Auction Negotiator for SDL Auctions Graham Penny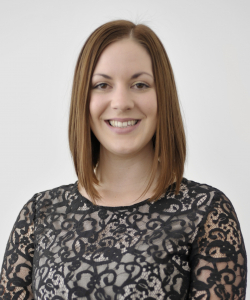 I joined Graham Penny Auctions as one of the original members of staff when Graham Penny established the business in 2006. SDL Auctions Graham Penny has always been a fantastic place to work, the team are great and we all pull together and help each other out to make auction day a success.
What is your business motto?
"Treat others as you wish to be treated yourself". I always try to put myself in someone else's position and see situations from their perspective.
What is the best quality of SDL Auctions, and how is it different to other auction businesses?
SDL Auctions is different from other auctioneers as we offer a standalone auction proposition which isn't integrated within an estate agency, so we can solely focus on auction sales only.
What is office life like for you and your team?
The Derby team is quite small in numbers but most of the team have been with us for many years and we all know each other's style of work and what our roles are, however we all pull together when it's needed.
What is your approach to work / life balance?
After having my two children I decided to drop my hours to part time, so I now work three days a week. For me this helps balance out family time and my career perfectly.
What is your approach to making contacts which are useful for the business?
I don't necessarily have to make business contacts in my job role however I think to conduct myself in a polite and friendly manner will hopefully leave a good impression enough for people to remember you should they need your future services.
Who has inspired you most in your business life, and why?
Graham Penny, the original auctioneer of Graham Penny Auctions, probably taught me everything I know about the auction business over the years. Whenever I have experienced a problem with a sale I have had a quick chat with Graham and his wise words would be the voice of reason.
What is your proudest achievement in business?
I started with Graham Penny Auctions when the company was first created in 2006 with only a team of four people. This continued to grow and grow through lots of hard work. When we won the accolade of 'Number One Auctioneer in the East Midlands' I knew we had achieved something to be really proud of and we could be a contender against the big London auction firms.
What drives and motivates you?
For me there's nothing better than helping someone achieve a great sale price that really deserves it. As a company it's important to get a high percentage of successful sales, but when we sell a property for say a deceased estate and the family take on our professional advice that leads to getting a brilliant sale price on the auction day, their praise and thanks are very satisfying.
If you hadn't been an auction negotiator, what would you do instead?
Before working in property auctions, I was a florist. I used to love this line of work as I consider myself to have a creative flare and an eye for design. I did consider setting up my own florist business, but it seems to be a very seasonal job and at certain times of year especially Christmas and the wedding season, it can take over your life.
What time of day are you at your best, and why?
Like most people I can't talk to anyone after I wake up until I've had a good cup of filter coffee! After I have dealt with my initial emails and come up with an action plan I'm good to go.
Do you use Facebook, Twitter or other social media?
I use Facebook and Instagram; however, I have to monitor how much I use Instagram as sometimes you can start to envy other peoples 'perfect worlds' which are always true to real life.
If you could have a coffee with anyone, who would it be, and what would be your choice?
The Queen (might have to be a tea in a china cup though). I'm a huge royalist and I think the Queen is often given a bad press by a lot of the public. I think she is an inspiration and does so much for the country and commonwealth. I have found a new-found respect for her after binge watching 'The Crown' on Netflix.
How do you relax outside of work?
Last year I discovered hotpod yoga and try and go a few times a week. It's nice just to take an hour of the day where you have no 'to-do list' in your head and just take time for myself.