11th April 2019
A coffee with… Carl Myers, Business Development Manager at SDL Auctions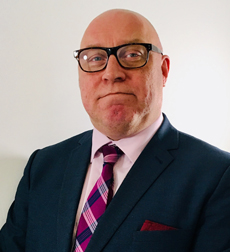 I have worked in the property industry for nine years, working for both independent and corporate estate agencies. My last role as a Senior Lister in a large independent estate agent brought me in to contact with SDL Auctions as they worked as a partner agent, so the role of Business Development Manager was a natural progression. I love banging the drum about how wonderful the SDL Auctions brand is and the benefit to both agents and vendors.
What is your business motto?
I have lots! But my two favourite quotes are "Push harder than yesterday if you want a different tomorrow" and "Gratitude and kindness destroys negativity".
What is the best quality of SDL Auctions and how is it different to other auction businesses?
Our ethos is entirely customer-focused. The needs, choices and the outcome for the customer are very important to us. Also, I was once told by a previous manager, "You can tell a lot about a company and the way they will treat their customers, by the way they treat their staff". 
What is office life like for you and your team?
I work remotely, based from my home in Northamptonshire, so my office is often my home or my car. But there is no sense of isolation as I talk to the team daily and I work closely with Dean (Auction Expert in our Chilwell office) and I'm grateful for his advice and support.
What is your approach to work/life balance?
I think a supportive home life is key and I'm very fortunate to have a very supportive wife and three wonderful daughters. To switch off from the world, I go to the gym six days a week and I am also a bit of a film and TV addict, so I'm happiest sat in my recliner watching a boxset or movie.
What is your approach to making contacts which are useful for the business?
Working as a Business Development Manager, I often visit businesses that I have had no previous relationship with. Therefore, being open, empathic to their needs and having a big smile on your face is key.
Who has inspired you most in your business life, and why?
I don't have just one person who has inspired me, I have many. I believe I have a "sponge approach" to business and whenever I can, I try to soak up and learn anything useful and new from my fellow colleagues. One piece of advice I was given at the age of 16 in my first job from an old retired Army Sergeant, was you don't get a second chance to make a first impression, so make it count.
What is your proudest achievement in business?
There have been many moments I am proud of which stick in my mind. Seeing the excitement on the face of a first-time buyer as I handed over the key to their first home. The year I sold 13 houses on the same street in Northampton. And now, every client I sign up and every auction sale they achieve.
What drives and motivates you?
Simple answer is, Me! I am my own worst critic and I hate the thought of failing, and it is that, that drives me to do well.
If you hadn't been a Business Development Manager, what would you do instead?
I've always wanted to sell real estate in America as I love the United States and am obsessed with American Football and particularly the Dallas Cowboys. I always fancied myself a bit of a singer and paid my way through University singing in the pubs and hotels doing a Frank Sinatra tribute.
What time of day are you at your best, and why?
I would like to say I'm at my best first thing in the morning. I am more focused in the morning and have normally reached my peak by four in the afternoon. Although as soon as I've had a coffee I'm ready to go again!
Do you use Facebook, Twitter or other social media?
I've just got back onto Twitter again. I'm not really into Facebook, I only use it to keep in touch with what my family and friends are up to. I like to use Instagram and LinkedIn.
If you could have a coffee with anyone, who would it be, and what would be your choice?
Without hesitation, it would be my Dad. He sadly passed away when I was in my 20's and I would love some time to say thank you for the sacrifices he made bringing up six boys.
How do you relax outside of work?
Saturdays are dedicated to my family and I try and keep that day free for them. We are trying to go out walking more and plan to walk up Snowdonia this summer.