11th October 2018
A coffee with… Allan Ross, Business Development Manager at SDL Auctions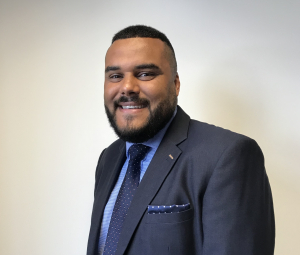 Part of the Auction Partners team, Allan works hard to develop and grow relationships with estate agents across Leicestershire and the surrounding areas. He is a driven individual who is passionate about property having worked within estate agency and consultancy for the last 12 years.
What is your business motto?
''Winners are not afraid of losing. But losers are. Failure is part of the process of success. People who avoid failure also avoid success."
What is the best quality of SDL Auctions, and how is it different to other auction businesses?
We are given all the tools to be the best we can be. Our directors constantly motivate us to try new methods and dare to care as if our department was owned by us. To have the freedom to be creative and add personality to our role enables us to offer a personal touch. There are no scripts or asked to be robotic, we are good people assisting good people.
What is office life like for you and your team?
Lively with lots of banter. We bounce ideas off one another and come up with solutions, I must keep away from the donuts though.
What is your approach to work / life balance?
I'm a father and a husband, I feel I have a duty to reward my family for the work I put in. Added success at work allows me to be a more successful person. I take work home as we all do, but I will use examples from both lives to make good decisions and be relaxed.
What is your approach to making contacts which are useful for the business?
I have learned over the years that people in the property industry specifically, come from all kinds of backgrounds. I've been known to buy a newspaper on a Sunday morning and pick up a contact purely by saying good morning. I do my best and find that this is rewarded. Word of mouth is the best way to build contacts. All contacts are a good contacts.
Who has inspired you most in your business life, and why?
My mentor, Chris Cook (a former Boston United footballer), who is a property investor and business entrepreneur. He is Mr Reliable; always approachable and open minded. When I approach him with worry or doubt, I walk out of his office feeling like I am invincible.
What is your proudest achievement in business?
Setting up my own consultancy. I made so many mistakes, spent too much time on hunting for the wrong business and ended up being a busy fool for most of the time. However, I had a reputation for going the extra mile and appreciating all my customers. It was personal, my name above the door so I was over the moon to be approached by SDL Auctions. They invited me to help them build their auction partners division. I know feel my experience has made me a stronger business development manager.
What drives and motivates you?
I grew up poor. No one has ever gifted me an opportunity, the world owes me nothing. To own my own property and buy-to-lets is just a way of measuring how far I have come. My motivation is to always look forwards and not backwards.
If you hadn't been Business Development Manager, what would you do instead?
I would still be running my own property consultancy.
What time of day are you at your best, and why?
9pm when I'm sat down with a beer in my hand watching Sky Sports News.
Do you use Facebook, Twitter or other social media?
I have a look on Twitter most days. I live a quiet life and would say I'm a private kind of guy. If I'm in a restaurant I'm eating food not taking a photo of it.
If you could have a coffee with anyone, who would it be, and what would be your choice?
Latte 100%. It would have to be Antony Joshua, he's my hero if you like. He has made major strides in his life and in boxing.
How do you relax outside of work?
I don't! My wife always seems to find a job for me ha ha. I am a football coach at Pinchbeck United Football club so I'll probably be found on the training ground barking orders.