15th December 2015
2015 ends on a 4 year high in Derby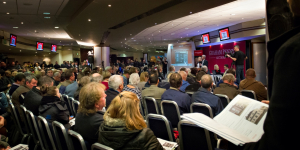 15th December 2015 – Graham Penny Auctions has this month achieved its highest total annual sales in Derby for four years proving why selling a property by auction can be the best method of securing the best price.
In its last auction of the year, on Wednesday 9th December at the iPro Stadium, Graham Penny Auctions sold more than 40 properties in a busy auction room of bidders and raised more than £4.5m in sales.
To view the results from the Derby December auction CLICK HERE
Auctioneer Graham Penny commented: "I'm delighted to end the year on such a positive note. This year we have secured the highest volume of total sales in Derby for four years, which is also our third best year for Derby sales since we opened our doors 10 years ago! Those figures only show that going to the auction room can be the best way to sell a property, it also shows that confidence in the property market is growing which is great news for buyers and sellers.
"Residential properties sold well in this week's auction, particularly those which required some investment or renovation. However, our mixed use premises and development land lots also caught the attention of our buyers and reached excellent sale prices."
Amongst the best sellers in the auction room were:
79 Marylebone Crescent in Mackworth – a double fronted three bedroomed mid-terraced property which sold for £87,000 from a £65,000+ *guide price.

335 Normanton Road in Derby – a well-situated three storied prominent retail sales shop which had a guide price of £85,000+ and sold for more than double at £190,000.

A plot of land near Canal Bridge Farm, Off Twyford Road in Stenson sold for £36,000 from a guide price of £25,000+

51 Woolrych Street in Derby – a superb investment property currently producing an income of £5,400pa sold for £66,000 from a guide price of £50,000+.
Graham Penny Auctions dominates the region's property auction market in terms of lots offered, lots sold and revenue raised. Last year Graham Penny Auctions sold more lots in Derby than any of its city competitors and so far this year has raised over £37m in sales and sold over 360 lots.
Graham added: "We are already inviting entries for our first 2016 auction and are working to maintain the momentum generated at our auctions this year. We're expecting our landlord clients to be particularly interested in selling with us in our February auction as they will be able to take advantage of the lower stamp duty rates before the increase comes into effect in April."
To view the results from the December auction click here
or to request a free property appraisal for the February auction click here.
*Each property is subject to a Reserve Price which may be different from the Guide Price. For full definitions click here