11th December 2017
200-year-old church in Derby's Christmas auction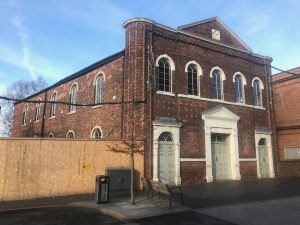 A historic church dating back to the reign of King George III is going under the hammer in SDL Auctions Graham Penny's Christmas auction in Derby on 15 December.
The former Methodist Church on West Street in Swadlincote was originally a chapel erected by Wesleyan Methodists in 1816 before it was enlarged in 1823 and 1837, and then rebuilt in 1863.
The detached building, which measures approximately 4,604 sq ft, could be suitable for all sorts of conversion opportunities subject to planning and has a *guide price of £40,000+.
Also in the auction as a separate lot is the neighbouring Church Hall fronting Market Street, a detached building dating from 1891 that measures approximately 5,000 sq ft, and this again has a guide price of £40,000+.
Robert Stone, senior valuer at SDL Auctions Graham Penny, said: "When you walk in you can feel the hundreds of years of history; thousands of worshippers have gathered in these buildings over the Centuries to celebrate special events.
"These lots are unique opportunities to purchase properties that have been such an important part of Swadlincote's history over the last 200 years.
"They are both in convenient, central locations and either of them could be developed into luxury apartments or commercial premises such as gymnasiums, subject to planning permission."
Mr Stone explained that both properties were purchased earlier this year and the vendor is now seeking a new buyer who wants to own and develop the church and church hall buildings themselves.
They are just two of more than 60 lots in what will be SDL Auctions Graham Penny's last auction of the year at Pride Park Stadium on Friday 15 December. The catalogue of 61 properties can be viewed here.