8th December 2017
£19m+ raised at 2017 Nottingham auctions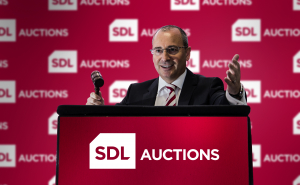 More than £19m has been raised by SDL Auctions Graham Penny in its Nottingham property auctions across 2017 – up by £1.5m on 2016.
The impressive revenues, raised from seven auctions held at Nottingham Racecourse during the last 12 months, are higher than any competing auction business in the city.
The latest auction on Thursday 7 December saw what was possibly one of the biggest semi-detached properties in Nottingham sell for £273,000, from a *guide price of £160,000+.
Strong bidding for the property at 1 Alexandra Gardens in Carrington was driven by the fact that it had seven bedrooms across three floors.
Andrew Parker, auctioneer and managing director at SDL Auctions Graham Penny, said: "Our December auction topped off what has been a successful year in Nottingham, with total sales nearly nine per cent up on last year.
"This growth rate is really encouraging against the backdrop of a fairly static economy, with house prices that have also started to level out.
"The results demonstrate the growing popularity of property auctions in the East Midlands and how it's a powerful way of achieving value in a guaranteed timescale.
"The sale of the seven bedroomed property in Alexandra Gardens was a typical example of how well auctions can work, as the attention of plenty of bidders was drawn to what was such an attractive investment property."
Other lots that sold well in the 7 December auction included a three bedroomed, end-of-terrace house at 34 Devonshire Drive in Langwith, Mansfield, where the hammer came down at £67,500, from a guide price of £50,000+.
Meanwhile, a two bedroomed, terraced house at 8 Dove Street in Bulwell, currently producing rent of £415 every four weeks, sold for £60,000, from a guide price of £50,000+.
Another two bedroomed, terraced house in Bulwell at 60 Brooklyn Road, currently producing rent of £500 per calendar month, sold for £63,000, from a guide price of £50,000+.
Mr Parker added: "The positive results of these properties are typical examples of what we've been achieving all year for our customers in Nottingham, and we are now looking forward to an even busier 12 months in 2018."
The next SDL Auctions Graham Penny auction in Nottingham is on 31 January 2018 and anyone with properties to sell can request a free valuation by calling 0115 958 8702, emailing nottingham@sdlauctions.co.uk or visiting www.sdlauctions.co.uk